Restaurant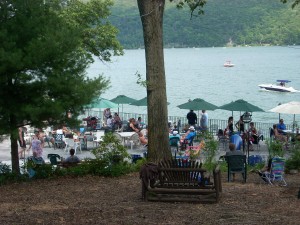 Those seeking a truly memorable meal can enjoy delicious freshly prepared American Comfort Food by Chef Michael Page.  Weddings, small banquets, small business conferences and private parties are available.  We offer outdoor dining in the warm months on the Terrace or you can enjoy meals year round  in our scenic indoor dining room.  Our

menu

has been expanded to include lunch and dinner entrees.  Make sure you ask about our dinner specials.
Call for current restaurant hours.
For Reservations please call 845-477-2456.
 This is the second time this year I have stayed here. The owner is a very friendly person and wonderful chef. She loves to share the family's history and stories of this wonderful hotel sitting directly on Greenwood Lake. This place has old time charm, a special dining area that is right out of Bavaria. If you are seeking a place that is reasonable with charm and coziness on the water this is it.